Winners
New York Lottery Winners
Get the top stories on NY Lottery wins right here, and check back regularly for updates on Empire State winner news. The New York Lottery is the biggest and most profitable lottery in North America, and the Lottery Aid to Education program contributes billions of dollars every year to schools statewide.
$2 Million Mega Millions Prize Won in Middletown
January 5, 2021 - A lucky Mega Millions ticket purchased in Middletown for Tuesday's drawing is worth an awesome $2 million. The ticket matched all five white ball numbers - 20, 43, 51, 55 and 57 - which would normally equal a $1 million prize. However, the ticket also had the Megaplier multiplier added at the time of purchase, doubling its value to $2 million. The ticket was sold by Citgo Mart, located at 28 Carpenter Ave.
Cash4Life Millionaire Made in the Bronx
January 5, 2021 - If you bought a Cash4Life ticket in the Bronx for Tuesday's draw, check your numbers - you could be NYC's newest millionaire! One lucky ticket sold at Hudson Parkway Pharmacy at 5700 Mosholu Ave. is worth a sweet $1 million. The ticket matched the five main winning numbers on January 5: 19, 29, 45, 51, and 52, only missing the Cash Ball, which was 2. The winner has one year from the date of the drawing to step forward and claim their prize.
Christmas Day Mega Millions Win in Windsor
December 25, 2020 - Someone became a millionaire on Christmas Day - could it be you? The holiday Mega Millions ticket is worth $1 million after it matched the five main numbers in the December 25 drawing - 17, 23, 36, 69 and 70 - to win the game's Match 5 second prize. The ticket was sold by Mirabito, 1161 Old Rt 17 in Windsor.
$1 Million Holiday Powerball Prize for East Hampton Ticket
December 23, 2020 - A Powerball win gave one lucky lottery player a million reasons to have a Merry Christmas! The ticket scored the second prize by matching all five white ball numbers drawn on Wednesday, December 23: 3, 43, 45, 61 and 65. The ticket was bought at East Hampton IGA at 92 North Main St.
VA Winner Scores $1 Million on NY Scratch-Off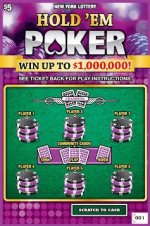 December 9, 2020 - A Virginian resident hit an amazing $1 million jackpot on a New York Lottery Hold 'Em Poker scratch-off ticket. The winner bought their lucky ticket at 7-Eleven, located on Glen Street in Glen Cove. The prize was claimed as a single lump-sum payout of $537,440 after tax withholdings.
Currently, players still have a shot at becoming an instant millionaire on the Hold 'Em Poker game - there's a single top prize out there to be won.
Buffalo Man Hits $1 Million Scratch-Off Top Prize
December 7, 2020 - The $1,000,000 Win it All scratch-off game definitely lived up to its name for Jonathan Hayes of Buffalo. The lucky winner stepped forward to collect a sweet $1 million jackpot won with a ticket he purchased at Tops Markets on Thruway Plaza Drive in Buffalo. Hayes took his payment as a cash lump sum that came to $557,594 after withholdings.
Erie County schools benefitted from $216,417,671 in Lottery Aid to Education in fiscal year 2019-2020.
St. Lawrence County Player is $1 Million Better Off After Scratch-Off Win
December 1, 2020 - The New York Series Scratch-off game has paid off big-time for Lisbon resident Austin Cadrette, who has claimed a $1 million top prize. The winning ticket was sold by Parkway Country Store on State Route 37 in Ogdensburg.
"I put the ticket in a safe spot when I realized I won," Cadrette said. He chose to take the winnings as a single cash option payment that totalled $618,056 after withholdings. What will he do with the awesome payout? "I plan to invest in real estate," he told lottery officials.
If you'd like to try your luck on The New York Series, there are still two jackpots available on the game - could you be a holiday winner?
St. Lawrence County school districts received $28,982,232 from Lottery Aid to Education in fiscal year 2019-2020.